Two days workshop launched by the CEO for Fisheries Dr. Tu'ikolongahau Halafihi on the 21st and 22nd of May at the Davina House in Ma'ufanga, Tonga.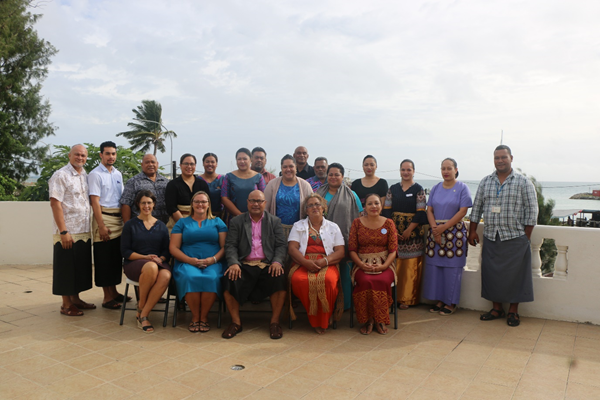 Tonga is the first of 11 countries in the Pacific region that have been given the honor to have the Ocean Finance Profile. Ocean Finance Profile is one of the objectives of The Pacific Ocean Finance Program(POFP), which is a three year program implemented by the Pacific Forum Fisheries Agencies(FFA) and the Office of the Pacific Ocean Commissioner(OPOC) with the aim to increase the amount and efficacy of financial investments into Pacific Ocean governance.CEO for Fisheries Dr.Tu'ikolongahau Halafihi, Dr.Melissa Walsh with workshop participants at the workshop venue.
Tonga's Ocean Finance workshop aim was to support cross-sector discussions on the status and opportunities to improve Ocean Finance for Tonga. This workshop was conducted by Dr.Melissa Walsh from the Office of the Pacific Ocean Commissioner(OPOC), assisted by a collection of experts from Pacific Island Forum Secretariat(PIFS).
As Dr.Halafihi said in his opening remarks "This workshop aims At improving finance for tonga's ocean health, governance, indeed this is greatly linked directly to give priorities stimulated in Tonga's strategic framework and Tonga Fisheries sector plan which includes sustainable community fisheries, sustainable commercial fisheries, public and private investments and improve fisheries governance"
"This workshop is useful for Tonga as ocean's health and governance are a priority for Tonga", Dr. Halafihi concluded, "I hope this workshop will help us better understand the responsibility as custodians of the ocean."
Participants include Representatives from line Ministries and Special Management Areas(SMA)community of Nukuleka and Ha'atafu also the staff of the Ministry of Fisheries Tonga.